ATTENTION: SUPERPOST IS ABOUT TO GO DOWN. SO PREPARE TO EMERSE YOURSELF IN THE WORLD YOU ARE ABOUT TO VENTURE INTO.
Now, back to regularly scheduled post.
Welcome Back Folks. What a disturbing past week that has occured. I hope all of yous handles you bizness, because you know Q will handle his. I have a special *Will Smith *Switch**-up for the masses today. I recently added a team member and together, we will try to flip the script on this blogging thang. Who knows, we may then try to add some new elements to the blog, *yeah, yeah*, then we might take a test...and pass *yeah, yeah*, then we look both ways before the street crosses us, *YEAH, YEAH??!!*, THEN WE MIGHT DOUBLE TEAM CELL and DO A KAMEHAMEHA *YEA... WHAT???!!!)
So-Sorry for the last sentence of the previous paragrah, that's just the Sunny D talking *Sunny D replies: And I may never Stop*. Any-body-else-who, let's delve, I mean indulge, I mean get into, I mean get-get-get-on-down to the buisness of today. Today's subject are cats who vibe on some weird 70's blaxploitation level. I guess that, with the title of the post is all that needs to be said. So without further ado let's get into today's guest. From the BX connect and with so much swagger that they can let me borrow some and still have the cup overflowing (???!!!!), Our guest in tha building are:
CAMP LO
(said in children unison voice). Camp Lo is a crew that originates out of New York. To be more pacific-like-the-ocean, they comin at you from the Bronx. Their backstory is a little hard to piece together but I will give up the goods to what I got. Camp Lo consists of MC's
Geechi Suede
and
Sonny Cheeba
. The funny thing about these cats is their government names are very similar to one another (check their wikipedia page for evidence). Geechi Suede used to live around the block to this cat who ventured in producing. This cat came to be known as Slopes um..I..mean
Ski
(yeah, thats whats I means). Ski is probably most well known for his work with
Jay-Z
(I not Jockin him, so it's all good). He's known as the cat who produce the Dead president's gem of
Reasonable Doubt
(Jay's Debut, But come you knows that by now (wait you don't, well you know what you have to do. Don't look all dispondent because you brought this upon youself. Go and slap youself silly a couple times and you can back because you going to need a pick me up. I will just give you a Flintstone tablet and see you out on your way).
Getting back to things, Geechi Suede lived down the street from Ski and Suede would freestyle over tracks Ski made in his residence. Ski then got the "Light Bulb over the Head" sh... and decided Suede should meet this cat he knew who vibed with him on a similar level. Enter Sonny Cheeba and a group is born (aw look how cute it is). With a group and idea in place with a producer, Camp Lo and Ski decided to play like magicans and create magic. They made a demo and Coolie High was the product of these sessions. A label, Profile, wanted to sign them but they weren't quite sold on these cats so they asked for another song. Ski quickly created a song and Camp Lo just came with it on the song. The song turned out to be Luchini and the rest as they say be the history you teachers don't teach you (Visit the Lie-berry to learn some truth (paradoxical sentence, didn't know I had in Me (Grins a little as I says this)).
Camp Lo got a record deal and decide, let's record an album becuase we got a deal (or no deal, depends on who you ask), and so came to frution
Uptown Saturday Night
. Uptown Saturday Night is the Debut album from Camp Lowaoh, released January 28, 1997. This album was unlike any thing heard in hip hop becuase of the whole 70's blaxploitation arena this album was set in. This alone would be enough to set it apart but Ski provides a phenomenal backdrop for Suede and Cheeba to operate on. Suede and Cheeba come at this album with a passion and intensity that you really don't see from most cats who operate in this arena. The lyrics are considered "Dadist Slang", which you know that this is complete Bullysh*t, because a close listen will reveal what subject there songs discusses (Bronx, Stick-Ups, Underworld Dealings, Blunts, Freaky Sex, and Designer (Fly) Suits).
The album would be an underground smash and garner even some mainstream onlookers, thanks to legendary singles, and Camp Lo has done... really not much since this album (depending on who you ask). One of the most intriguing things about hip-hop is the "Debut Album being the best album of Career" label that a lot of Cats have. From Nas to Biggie to Wu-Tang (Include the solo albums (exclude Ghostface because he might come and beat me down and vanish just as soon as he came through the joint) to Snoop to NWA to The Pharcyde to Camp Lo and countless others, their first albums are level they can not quite obtain cohesively to reach the heights of their debut. Their are various reasons for this, but it would be too much to get into those this time.
Hey, at least you got me and isn't that what you really need, and oh... the album. So without further ado, the Camp Lo "Uptown Saturday Night" Album......Review and then Album. I gots to stop playing tricks on the mind (because they are just for adults...um.. I mean kids (says this as kids snap a sharp look in my direction)).
*Before I adavance any further, I have a new team member to L2G. He goes by the name
Guy Fawkes
and he has the credentials to join the site (extensive background search and all of that Gibs), so give him a rowsing welcome *Crowd Applause is through the roof*. Wait more applause than me, I need to step my game up (no shame in my game (big ups to Gangstarr)), even though he has not even written anything yet. What does this say about me (says this in a weird self acknowledgement moment)????*
Here is Guy Fawkes Review intro:
If you ever pick up
this
CD, (who am I kidding) from the cover, you will immediately notice a heightened sense of blaxploitation, at first
Camp Lo
seems like a logical name for a never known disco group... with the ever optimistic album name. But from the first track it will be obvious that you are in for quite the surprise... Sonny Cheeba and Geechi Suede are two rappers almost exclusively known for their sparkling debut... the very same album your reading about right now. And these two men happened to pull one of the most acclaimed producers to do their whole album... Ski (the producer of most of
Reasonable Doubt
) is as much a part of
Camp Lo
as either of the two other members are. To describe their style you have to just as much understand the era they are trying to evoke: the 70's, and looking back they mimic the "blackface" or "minstrel", the waiter/butler/maid for the "hilarious, wholehearted" family. As a warning: I think any fan of hip-hop will enjoy either rapper's flow, but the lyrics are difficult to decipher at times.
1. KRYSTAL KARRINGTON
John's Take
F*CK A RAP INTRO!!! Rappers take note to how you start of your album *insert cannon shot here*. This is your introduction to what the Camp is all about: Stick-Ups for Diamond Goods, Freaky Sex, and the business of their dealings. Man, Geechi Suede and Sonny Cheba come at you with this track. Credit is due to Ski for providing a banging backdrop with the salt shaking shakers (??!!) (Dreams, just playing, those are marachas) and the tuba-sound, (with the repeated guitar lick), that plays like some weird marching band beat. It works well here and this song shows us how the MC's go on and on and some still try to do, yes y'all to the Campa Lowoah. Suede: The Lyricist who hit you from all angles on his sharp 70's tongue and Cheeba: Smooth, Jive talking Cat who can talk sh*t to you and won't do nothing because it sounds so damn fly.
Guy's Take
You will quickly distinguish
Cheeba
from Suede.
Suede
is much easier to lyrically connect with. Full of great metaphors, references that are too numerous to list... but it is only an above average intro.
2. LUCHINI AKA THIS IS IT
John's Take
PHE-NOM-EN-AL!!! I reviewed this track for the 12'' of this song, but why not get some more insight from Q. Suede and Cheeba just come WITH IT on this track. What eva they were on on when they made this, try some more of it. Suede and Cheeba just ride this beat to the max with tales of Diamond Heist mixed in with how they party through their adventures. Look, watch Uptown Saturday Night(THE MOVIE, for the kids who don't know(and look, you did not have to ask somebody)) to see where they kinda get the idea from. Guy will touch on it later, but yeah this song's straight up good times beat is ironic for the violent atomsphere the lyrics have (video doesn't help get that violent aspect of their lyrics because look at how much fun their having). But see, the thing with this beat: its so good that it is all good in this violent Diamond runners tale. Message to God: Please hit Ski with another once in lifetime idea while making beats so we can hear a backdrop like this once again in my lifetime. Sincely yours, John Q. Question: What's the main focus of this song? Are you serious? (Answering a Question with a question, GOOD TIMES (Loves the Show annd so do the Camp)). The beat is the main attraction and it is good reason. Ski makes good use of the
Dynasty
's
Adventures in the land of music. And those horns, the MF horns with that airy drum pattern and this is a recipe for classic rap track. Best Song they ever made and when you hear, you see why. They just don' t make beats like this anymore, do they. Oh well, listen to this song while you are sippin on Armaretta (Trust Me, It's much more easier to float side to side in your Coolie High (But be of the legal age OR ELSE)).
Guy's Take
Although this song has countless lines about violent, misogynist lifestyles it's ironcally a very
upbeat song
. To clear a confusion that probably won't ever occur... the Ill Will they are referencing is a producer, so not NaS's Ill Will
3. PARK JOINT
John's Take
BREAK!!! This is the point in the album where we take our first break. Suede and Cheeba spit some fly ish over this Park Joint (get it??!!). Guy's take on this song is right on, but I don't know if you will really get into this song first time listen (lyrics a little above the backdrop). Ski does his thing with the beat and how he flips the song. But come on, the first two songs we on so much of some other level sh.., that we can just give a passerbyer's nod to this "Joint" and Keep It Moving.
Guy's Take
This is as close to a park joint that Camp Lo will ever reach. The beat fits the title, the lyrics are much too complex and vivid to be a "park" joint. The short rhymes work well.

4. B-SIDE TO HOLLYWOOD (feat. Trugoy from De La Soul)
John's Take
ALRIGHT!!! I have seen other cats take on this song and, after a couple of listens, I got into it. Yet, this is one of the albums lessen known track and you will hear why. Props to Cheeba and Trugoy for the style they flip on this track (Suede is the lyricist, but that does not always fit the track and you will hear what I am talking about when you hear this ish). Trugoy comes through with the beat for this track (Ski my have had a hand) and it is not bad effort. All in all, It's cool to see these cat's reminisce on their memories of the Black Side to Hollywood (I just got that abbrevition, you learn something new everyday).
Guy's Take
Don't know how Camp possibly pulled off a
De La Soul
beat... but it doesen't fit the style of the album at all... but I definitely respect the flow versitaility of both rhymers. Overall this track is a bit weak.

5. KILL EM SOFTLY
John's Take
KILLS THE VIBES!!! When other people discuss this album, they will always point this track as where the vibes come to halt on this track. Suede and Cheba have beef with this cat and they take care of business, but seems a little out place on hear. Ski provides the beat and the MC's just come for this cat with straight "snuff this cat out" lyricisim. This will grow on you, once you hear and absorb some Lowoah, and you will come to kinda of like it (in the right setting and certain mood).
Guy's Take
The title says it all.... soft beat and the lyrics are straight murder.
6. SPARKLE
John's Take
SMOOTH!!! Here we go. Now this is what I'm talkin about. Suede and Cheeba shine over this chill and late-night club backdrop provided by Ski. Suede and Cheeba just talk about the adventures of wining and dining with some bodacious female acquaintances. Hearin the song, you can kinda of picture these cats just spittin game to some fly honeys in the VIP section of the club. Ski does come correct with the beat that is just NICE, with the great use of
Cal Tjader
's Leyte (sounds like
Roy Ayers
could have played on this track (it is that chill)), and the MC's just ride this beat with a smooth, playa sweet talkin, game.
Guy's Take
This beat is like staring out into the sky without a worry in the world... and the lyrics are just beautiful. Simply amazing.
*John Q: Couldn't Have Said It Better Guy*
7. BLACK CONNECTION
John's Take
LADIES AND GENTLEMEN: A STORY TOLD BY GEECHI SUEDE AND SONNY CHEEBA AND THE EXECUTION IS OUTSTANDING!!! Ski provides the brilliant backdrop, with a great use of the
The Stylistic's
"Love Is The Answer", and Suede and Cheeba just straight control the song. Ski gives the MC's some type of
Godfather
type setting for them to operate in. The constant violin playing you hear can only help you feel like you are watching (or hearing) a movie. This song is Camp Lo at their best. Tales of Underground Crook World dealings that plays like an American Gangster film. This is what you should play to hear tales of illegal business and other items. Plays like a distance cousin to
Biggie's
"Me & My B*tch" (IMO). After listen, you will try to BAG A, BAG A, BAG A BLACK CONNECTION!!!
Guy's Take
True hip hop
fans will gravitate to this track simply because of the beat...which is easily the best off this album. Add the delivery and the lyrics... and you get one of the best songs of the 90's (not opinion, it's fact)
8. SWING (feat. Ish AKA Butterfly)
John's Take
BANGER!!! This play's like a distant cousin to previous song and, people, this is a great thing. Ski just provides a banging backdrop for Suede and
Ish
, that cat from
Digable Planets
, to flow over and man do they come correct? Answer: YEAAAAHHHHHHH!!!!!!!! Suede and Ish discuss how other cats need to find their own "swing"and stop try to give them some BS swing that doesn't really swing (Read slowly and listen to song to fully understand). The drums on this track, alone, will grab you and never really let go (why so aggresive, Drums response:
Blahzay blahzay blahzay). The funny thing about the guest on this album is that Camp Lo said that their influences to getting in the rap game were

De La Soul

and Digable Planets, so why not get them on your debut album. The Camp said they met Ish at a gas station and so this song was the result(I need to drive around so NY gas stations more often). This is the better of the influences guest appearances on the album. Don't think so? All I can say:
Blahzay blahzay blahzay who name bell ring.


Guy's Take



This seems like an Pharell beat, with an abrasive drum beat which loops way too quickly. The beat subtracts from the most understandable lyrics off the whole album. Butterfly from
Digable Planets
spits a solid verse. Overall a decent effort.
9 ROCKIN IT' AKA SPANISH HARLEM
John's Take
ROOCCKIN IT!!! This is one of my favorite *8-*tracks off the album. How can you not get down to this?!! Ski laces the Camp with a Latin-tinged backdrop for Suede and Cheeba to vibe over. Ski has a nice sample of
Loose Ends
' "A Little Spice" and the
Fearless Four's
"Rockin It" (still wonder about the chorus, listen to this song and it will clear everything up (also used the chopping drum pattern (I think)) to give you that feeling that you are now dwelling in a Spainsh club setting. Suede and Cheeba just do the damn thing all over the track. From Suede's freaky introduction and scene desription's to Cheeba's Master of Ceremoning the crowd, this track will have you Rockin It *Said In Crowd Unison Voice*. This track makes you feel like you are in the Spainsh Harlem (said slowly, huh?!!). Guy will touch upon it later, but let's get to the title of these "AKA" tracks. I said earlier in a Camp Lo 12"post **Sidenote: A weird thing about this and some of their other songs on the their debut album,
Uptown Saturday Night
(yes, based on the movie form the 70's (go figure)), is that seem indecisive about what to title some of their songs so is seems if they put one title to give the song some a proper title but they put on an "AKA" to say,
YO, I know this song needs a title but lets flip an AKA to say that this is how the songs feels to us
. Don't believe me or (the Hype), just listen to their songs on the album that have this and come back to John Q with an apology for questioning that cat's wisdom (I think it comes from tooth)** *Funny Thing about this song is that every interview I read with Camp Lo, the one thing they say they will always regret is not releasing is "Rockin' It AKA Spainsh Harlem" as a single. If they say that then you know this song is dope, but don't take me word for it, just vibe to the track and absorb it*
** From "
This Is...WHAT!!!
" Post (My blog, I can quote John Q (he said it was OK))
Guy's Take
Judging by the title, Ski had to add a Latin influence to this track... but it doesen't sound very good at all.
*One Time we can differ on opinion completly on a track, but to each his own, so it's all good*
10. SAY WORD (feat. Jungle Brown)
John's Take
COMIN' AT YOU!!! The Camp get back to that Tales of Underworld dealings and all that goes along with it, along with help from their commadre,
Jungle Brown
. The sample for this track is great, a bit unsual, but geat nonetheless. This track has a "Krystal Karrington" vibe to it. Look, my brother loves this track (acutally loves the album and he does not even really listen to rap), so their you go. Ski provides the abrasive backdrop for the Camp to spit about their dealings and everything works well on this track. It might take a couple listens to get into though...
Guy's Take
A very strange song, but it sounds real good... I like the
vocal sample
being featured in the beat too... it sounds like
Kanye West
's "
Wouldn't Get Far
". This is a very refreshing track. It might take a while to get warmed up to though.
11. NEGRO LEAGUES (feat. Bones & Karachi R.A.W.)
John's Take
HAUNTING!!! This is all that comes to mind when I hear this track. Ski provides a dark landscape with creepy piano keys and unsettling Halloween feel that the MC's are provided with to operate in. The Camp's required Posse cut is not bad though. Though the Guest MC's, especially Karachi, can becoming a little annoying after a while. This song about the ghostly precess they can shake cats with. Actually, the title kinda says it all, so take the song for what it's worth and take from it what you want.
Guy's Take
A posse cut, that turns out fairly well... all I can really say.

12. NICKY BARNES AKA IT'S ALRIGHT (feat. Jungle Brown)
John's Take
OKAY!!! The Camp get back to what they know: underworld dealings, with assistance from their partner in crime, Jungle Brown. Cheeba sticks to what he knows, Freaky Sex and underworld dealings and Suede comes with through with it, and Jungle decides to control the spot with his tales. Ski provides the nice backdsrop with the good use of
Issac Hayes'
(RIP, Sweet Soul Brother) "Walk From Regio's". Looking at track's title, you know what this song is about. For those who don't, it is a nod to those underworld kingpins who run this (it's alright). You can picture this setting of the Camp & Jungle sitting at a table with their underworld illegal buisness runners telling their tales of heisting and other things.
Guy's Take
This is another one of those eternally optimistic "Rapper's Delight-esque" tracks... it's fairly difficult to get past that message, but you may uncover some tight lines on this track.

13. BLACK NOSTALJACK AKA COME ON
John's Take
GROOOOVVVE!!! Another Great track for the Camp. Ski provides a lush landscape for MC's to vibe on. I love's how Ski flipped Curtis Mayfield's (Soul Legend) Tripping Out and he does
Bob James
"Nautilus" (he still makes money off this track to this day). Suede and Cheeba just groove to the track (gueesing that the first words that came to them is the chorus (don't belive me, FINE, I don't believe you too (soory for that, we still cool??!!)). This track will take you back to the sweetbadass days of th 70's. The radio edit to this track switches up some lines for the chorus and it sounds great. The is a tribute to the whole 70's era vibe they operate on and the video for the song only makes it that much better with cameo's from Jimmie Walker and Bern Nadette Stanis reprising their roles from
GOOD TIMES
(say in song voice, sounds so much better). FUN-ny thing about this song is thay they really did want to release song as a single (look at Rockin It for what they wanted), but the company convinced them to release this as third and final single. So if from the ____, Come on (plays song in
Soul Train
party atmosphere).
Guy's Take
What is with this AKA ______ shit? The A.K.A. is always the last few words from the hook... this song tries to be nostalgic... it succeeds in some senses and fails in others. The "if your from ______ come on" message has been present in hip-hop from the beginning. The jazz on this track tries to be nostalgic but is in no way prevalent enough to succeed, and the weak ass Big L reference "I practice Gun Fu" does not succeed at all. Damn even 10 years ago people were "Gettin Fly"
*Another instance were opinion on song differs greatly, but don't worry, we still cool after we brawl for two days and two nights on what we think of song*
14. COOLIE HIGH
John's Take
AMAZZINGGG!!!! This track is just unbelievable and you will understand when you hear the song. SKI must be given the best props I can possibly give providing a great backdrop for the Camp to spit game over. I don't know how he flipped
Janet Jackson's
Funny How Time Flies (When You're Having Fun) into this joint, but what a producer. It beats like this that makes me believe Ski was one of the top notch producers of 90's (and lookin back at Hip-Hop in the 90's, that's quite a compliment). Geechi Suede and Sonny Cheeba flow's over this track is perfect and give them credit, they know when to put the effort into a good track. I am amazed to this day that this song got airplay and that's actually a good suprise. Classic rap single of the 90's. Think of this song as you spit your game to Queen Bee that eye spots for you. **Sidenote: This is song that caught the attention of Profile records, because the Camp recorded a demo of this song and the record company was "Feelin It" (those who know what I'm talkin bout with that phrase, throw your istols in the air), but ask for something that would seal the seal. So Ski went back to the studio and quickly created "Luchini" and the rest, as they say is history (I Love Redundancy like I love Kool-Aid, I Love Redundancy like I love Kool-Aid, I Love...) (Kids, understand the two single rule of hip-hop if you want your album to get the crowd's attention.)**
** Information from Interview Ski did with Dan Love of
From Da Bricks
.
Guy's Take
How ironic is it that this track was a single? Camp Lo actually selects a
good
song for a single. This reperesents everything that is right in hip-hop. Another one of the best songs of the 90's.... and I don't throw terms like that around all the time.
15. SPARKLE (MR. MIDNIGHT MIX)
John's Take
LOWER THE EQ!!!! Funny thing about this song is it is the same as "Sparkle" but all they did was lower the EQ!! It is really a spoken word type of vibe and nothing really changes from the original. It's all good, but hearing this it seems like this added a bonus cut album right before they finished putting out the album. Seems like album ends with Coolie High. Trust Me, hear the song and you will see what I mean.
Guy's Take
A mix isn't supposed to be acapella... it's the same as Track 6.
Final Thoughts:
John's Take
Uptown Saturday Night is a GREAATTT (Tony The Tiger came lookin to beat Down Captain Crunch, the Cereal busines ain't no joke) listen to this day. Even with some of the complaints one may have for this album, overall it is one best albums you will hear from Hip-Hop. This is one album I can constantly listen to from start to finish and love every moment of it. I read at the
Smoking Section
overview of the album of **the type basement party vibe the album has, sounding like the lyricism of Only Built For a Cuban Link... mixed with the sonic backdrop of Midnight Marauders** and man are those words fitting for this album. This is one of my favorite albums in music and that more than anything says a lot about the album. Camp Lo has since released two more albums but they don't reach the vibes they had on their first album, but still check them it (cause it's all good, because it's love, love, forever).
**
Jimmy Valentine words on Uptown Saturday Night
Guy's Take
To conclude, this is one of the best albums released in the 90's, as proof I will offer this cute little antecdote. I began doing reviews as a reason to go through the albums I had not heard for a while, and ones I have never heard... I have more than 25,000 songs in my library. Problem is I
only
have an 80 GB Zune, so I need to delete at least 7,000 tracks. So I've been getting rid of intros, interludes, outros... and bad tracks. Most albums have been slashed in half by the dictatorial delete button... but this is the first album in which I was unable to delete one song... this album goes hard the whole way... there are a few misteps along the way, but the successes are much more prevalent. I strongly recommend this album to anyone who will read this review...
one love
.
So without further ado, Camp Lo's
Uptown Saturday Night
: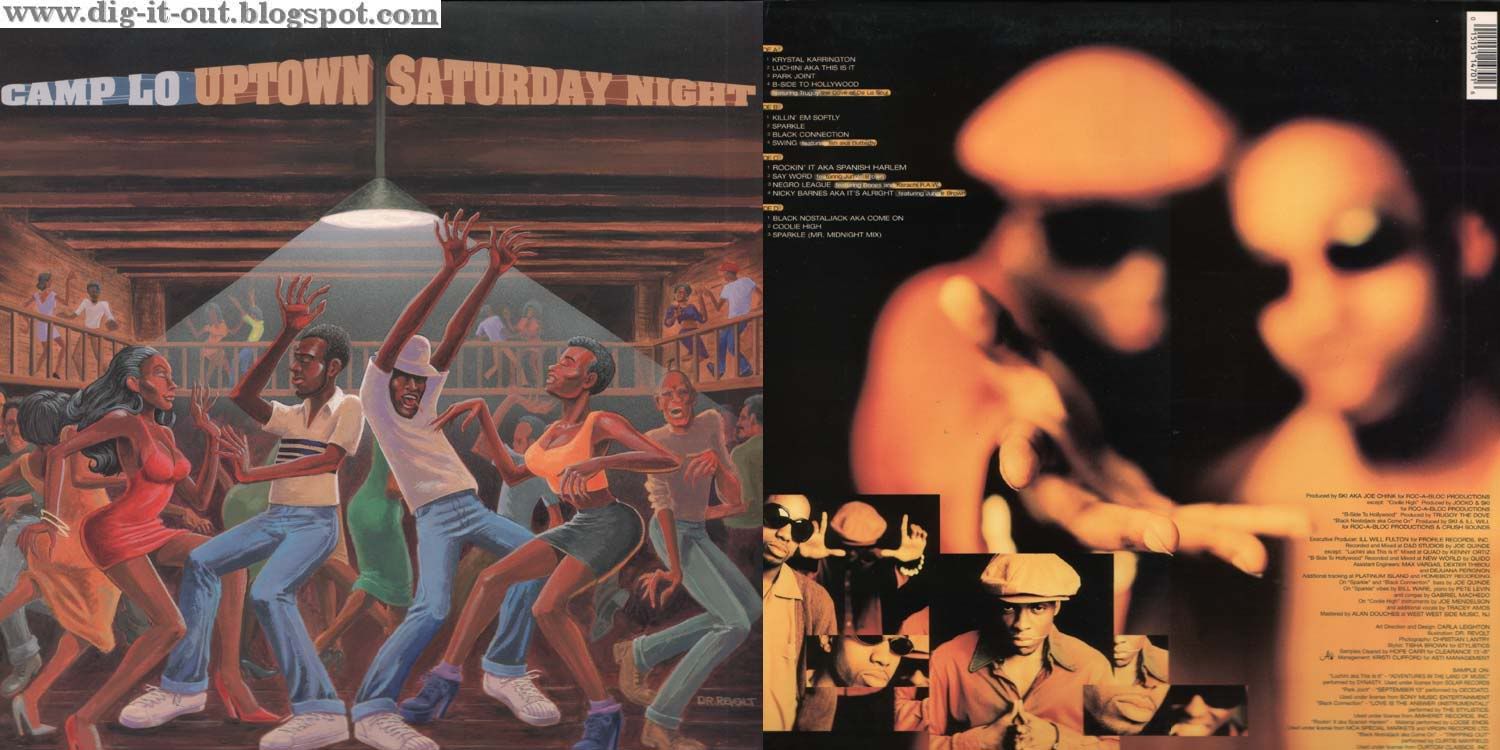 Mediafire Link
A Little Sum-Something to Go Along With That:
Camp Lo - Uptown Saturday Night [The Samples]


Tracklisting:

Dynasty - Adventures In The Land Of Music ['Luchini AKA This Is What']

Deodato - September 13 [Park Joint]
Eddie Bo - Hook and Sling [B-Side To Hollywood]
Cal Tjader - Leyte [Sparkle]
The Stylistics - Love Is The Answer [Black Connection]
Loose Ends - A Little Spice [Rockin' It AKA Spainsh Harlem]
Issac Hayes - Walk From Regio's [Nicky Barnes AKA It's Alright]
Bob James - Nautilus [Black Nostaljack AKA Come On]
Curtis Mayfield - Tripping Out [Black Nostaljack AKA Come On]
Janet Jackson - Funny How Time Flies (When You're Having Fun) [Coolie High]
Skull Snaps - It's A New Day [Coolie High]
Megaupload Link
(Courtesy of
Goons Dancing Under Full Moons
. He put the set together, put up the link and did all that gibs. All credit mus be given to Alex of Goons Dancing. Stop by his place sometime, you will dig the sounds.)

Camp Lo - B-Sides, Rarities, and Other Ish From Uptown Saturday Night Era
Tracklisting:
Baby Mother (Mama for those with so much soul)

Baby Mother (Mama for those with so much soul) (Instrumental)
Feelin' It (Demo)
Coolie High (Demo)
Bubblin' (Anita Demo)
Coolie High (Red Handed's Tapemasters Remix)
Coolie High (Instrumental)
World Heist
Coolie High (Paradise Remix) (Vocal)
Coolie High (Paradise Remix) (Instrumental)
Coolie High (Geoslide Remix)
Luchini (Instrumental)
Luchini (Remix) (Street)
Luchini (Remix) (Instrumental)
Black Nostaljack AKA Come On (Instrumental)
Black Nostaljack AKA Come On (Kid Capri Mix Tape Remix Street Version)
Black Nostaljack AKA Come On (Kid Capri Mix Tape Remix Instrumental)
Black Nostaljack (Xenobia Remix)
Black Nostaljack (Xenobia Instrumental)
Luchini (AKA This Is It) (Lemon D Remix)
Black Nostaljack (AKA Come On) (Breakbeat Science Remix)
Stretch Armstrong Freestyle
Mediafire Link 1
&
Mediafire Link 2
(Courtesy of
Lyrics to Go
. This took forever to put together with some secret techinques to obtain some of the songs. Some of these songs you will not find anywhere else (I checked, so don't play that game). So appreciate this drop and try not to put links on other website without giving credit where credit is due)
So, peace to the nation, the people that represent, and those
cats that never bug out to the extreme
Yo, If word is bond
then Q is gone
(Don't know when I'm going to come back, this post took a lot out of me)
Please Leave a Comment (You Know I would appreciate that so much).