AND YA DON'T STOP, SO KEEP IT ON!!!! You, know I really have to stay consistent in this Blogging game like Dart, of
Poisonous Paragraphs
, and Max, of
Hip Hop Isnt Dead
, or else I might be dropped like Fatlip for that FARRRRRRRRRRRRRRRRRRRRRSIDE (or Pharcyde for those who want to be all technical (you may want to ignore since they reunited for Rock The Bells, which you gots to check out)). So, check out this place more oftne for some treats (or could this all be a trick????!!!!)) *Says all of this concluding in Rza laughter (the one off the "((After the Laughter))Tears" track.
Aiightt, let's get into the bizness at hand, and today, our guest are children of the forest. Still have no clues on what John Q is talking about? Well, don't worry, I'm here to solve all your problems (the ones that have clear soultions, that is). See, the cats I am talking about hail from BROOKLYN (in Mos Def voice (small hint)) and have a unique name that seems odd even in the Hip-Hop climate. Still have no clue on who they be, well scroll down and you will see..
DA BUSH BABEES
(said In Children unison voice). The Bush Babees are a crew that originated out of Brooklyn in the early 90's. Their backstory is really hard to detail cause not a lot of info is out on these cats like some others say
A TRIBE CALLED QUEST
or
THE PHARCYDE
(look out for upcoming posts on these crews in the near future). So, I am going to hit you with what I have so far on them. The Bush Babees consist of the 3 MC's (you will remember this later on in post) of
LEE MAJORS
,
MR. MAN
, and
Y-TEE
.
All three of them grew up in Jamaica and Trinidad (if you listen to thier albums, there might be a slight hint of reggae influence in music, but, but,but justa sllliiight hint) and, if I understand, Lee Majors and Mr. Man moved to Brooklyn during some time and Y-Tee followed suit sometime later. Lee Majors went by the name Baby-Face-Koas (yeah, he was serious) and was a solo artist for some time around the early 90's Hip Hop Scene. Mr. Man was also a solo artist around the same time doing whatever the Hell you normally do in the Hip-Hop Scene (you know what cats do in this scene, so lets move on). In 92', Mr. Man saw Koas perfoming and he got on some "I Got a Great Idea" sh.. and the two decide to form like Voltron and become a group. They perfomed together, but there was a feeling that something was missing and decide to add another member to the group, enter Y-Tee. They had all the pieces in place and know it wsa time to take over the world *insert Rza Laughter* or find some place in it (we all going to die, so we all got to try - Mos Def).
They did some concerts and live office auditions (what the Hell happened to these) and soon got signed to Reprise (Warners Bros. division). They soon got to work on thier debut album and produce a suprisingly decent effort with production from the group themselves, Ali Shaheed Muhammad, Salaam Remi, and, Jermaine Dupri(????!!!!). The album is called "
Ambushed
" and is most remembered for the singles "We Run Things [It's Like Dat]" and "Remember We". Check this out, the last single "Remeber We" was actually a remix by Salaam Remi (one of his best efforts), but this version does not appear on the album. Get That??, Well, I don't since this verison "Celtics Defense's" the original one (Watch The Finals, it's gooooood for you).
Anyway, as good as their first album was, Their second album completely flipped the script and present them in more sophiscated and refined way (think of the Fugees evolution (*sidenote - Fugees released first album in '94 and *thankfully* released a monumental second disc in '96, Do you see a pattern???). This album is the one they should be most, and probably, are most remembered for (Remmbemer, We??!!).
Gravity
is the second album from the Bush Babees (they grew up so much, "Da" was dropped). This effort is balanced and well though out with tight flows and "knocking and sutlte" beats. Guest Appearances include Q-Tip, Rhazel (beatboxer extraordinaire) and *gasp* an unknown kid who went by the name Mos Def. Gravity was released on October 15, 1996 and the world would never be the same, because October 16 came and people still went about there daily lives. The album would garner crtitcal acclaim and do decent numbers to the point Warner Bros. would....drop the group after the album's release. That's the industry for you, folks (So, you still want to be an MC???).
So without further ado, the Bush Babees "Gravity" Album......Review and then Album (see what I did there, I left you in suspense like news on another Bush Babees sighting (QUIK, am I talking about the group or animal???? (Hmmmmm))
1. INTRO (feat. Mos Def)
Usually, I ditest rap intros for they got no use on the albums (read: skippable (is that a word), but this intro is GREAATTTT!!!! Some kid named "Mos Def" handles the duties of starting of the album and does a rap/spoken word type of thing. Mos handles things pretty well and this just gets you into the album. Gravity has so many meanings, but understand what presence God can have in yous life (neat message for masses). Shawn J. Period handles production duties and sets tone for album with this cool beat.
2. GRAVITY
LOVELY. This is what comes to mind about this track when I hear it. Ali Shaheed Muhammad's production delivers and the MC's completely handle this track. The female backing vocals only help amplify the earthy aura of this track. Lee Majors and Mr. Man keeps it real about the rap game and how it affects their lives and Y-tee carries one through on the Chrous. If only most MC's and Producers could only put this effort into their tracks, but John Q can Dream, John Q can dream...
3. WAX
HUH!!! At first this song really did not catch me attention, but as I have listened to the album constantly, the song has grown on Q. The MC's do not disappoint on the track, with Lee Major comin at ya hard and Mr. Man always notewhorthy for the humorous punchlines he throws. Y-Tee actually has a good verse and is one of the few times he actually *MC'S (*yells as he says this). The only thing that holds the song back is the beat. Mr. Man, who produces the beat, kinda drops the ball here, but it is only of the few flaws in the album.
4. THE BEAT DOWN (feat. Rahzel)
OKAYYYEEE!! Rahzel, of Roots Crew fame, comes in and does what he do's best: BEATBOX. The track is more of an interlude, so nothing much more to say here.
5. MAYBE
GETTIN BACK ON TRACK!! Mr. Man handles solo duties and delievers. He also produces the track, so he must've had a good sense on how to approach this track. Man keeps it real and tells about what could have been had some stayed on the right path (seems familiar in today's industry) and raises some important questions and insight into what happens to a focused individual. Learn the lessons here, Kids.
6. 3 MC'S (Feat. Q-Tip)
FIRE!!! This is more like it. Where the Hell has been for the album. It says that Ali Shaheed Muhammad produce this track, but like The Low End Theory, I would not be suprised if Tip did not have a hand in this track. This track sounds like it could have ben On Beats, Rhymes, and Life. Lee Majors and Mr. Man hold down fort on this track, But Tip kinda stands out on this track. Not to worry because all the cats on this track blend like butter (smooothhh, John Q). Funny thing about this track is that it's title can be misleading, because Y-Tee appears on the track (albiet the chorous), but I guess he is not really consider an MC or maybe he arrived late at the studio and they said "Yo, Yous came late, so all we got left for you is the chorous, but, but, but, that's where you shine most (trust me, this is where he shines mostly on the album))." Or Some other sh.. may have happened, so you may want to ignore that last sentence. Moving along...
7. S.O.S. (feat. Mos Def)
BANGING!!! This track follows on the momentum of the last track and continues a trend of great songs. The chorous may be a little weak, but the MC's make up for that on the track. Everyone really vibes on the track and the beat, courtesy of Mr. Man, really stands out with shine-out performances from Lee Majors and the Mighty Mos Def. You know from hearing his verse, this cat has potential, who knows he may become something of major player in this rap game (Last sentence is drenched in hindsight and sarcasam). This track's heavily applies to the Rap scene today and enough MC's need to heed the message of the track.
8. GOD COMPLEX
NICE!!! This track, suprise suprise, has Y-tee deliver some nice lines (read: one of the few times he respectably's??!! MC's on the album) and Lee Majors and Mr. Man are on some other man stuff (censor John Q becuase of what track theme is about). Shawn J. Period delivers on production duties on this track to where the MC's have a chance to shine (albeit with a weak chorous). Majors and Man come on some knowlegable stuff about stuff K.O.S (if you don;t know what this is, leave now (but I let you come back someday)) and the importance of God in yous life and praising him in the way yous see most fit. Got it, GOOOOD!!!
9. THE RULER
INTERESTING!!! This is the first thing that comes to mind with this track becuase MC outshines the beat. I not saying the beat is bad, but you expect Mr. Man to do a litlle sum-somethin more witht the beat. Lee Majors tears into track (given this is his whole MC approach) with great energy and lines. Love, not like, the fact the chorous (and song, to a certain degree) is based on Kurtis Blow song or line. *Sidenote: It seems in '96 , MC;s where concerned with taking over the world. People, this is what happens when you watch to much Pinky and Brain (Tell Me that Show was not the sh..). Also love the refernce Majors has to the this cartoon show.
10. THE NINTH PRESENTATION
GREAT SHORT!!! This track is an interlude that has Mr. Man dropping a crazy verse, (that sounds familiar??!!), and Lee Majors seems like the walked into the studio and Mr. Man, who produce this track, told him to freestyle over the track and did whateva the Hell that came to mind. This track sets us up for...
11. THE LOVE SONG (feat. Mos Def)
BANGER!!! THis track is the sh.t. No, let me say that so you can hear that clearly, THIS TRACK IS THE SH.TTT. Posdnous produces this faboulous track with a such a great backdrop for the MC's, they can't f.ck on this track. Don't worry, These cats deliever. Lee Majors, Mr. Man and Y-Tee come corrct on this joint. And the Mighty Mos Def habdles chorous duties and a little outro for the song, but DAMN, how can you not like this track. Mr. Man comes at this joint like Lee Majors (and what a job he does), Lee Majors does what he does best with crazy lines like "Holding more Dangerous Minds Than Michelle Pfeiffer" and Y-Tee does his reggae/MC thing. The true star of this track is Mos Def and the beat. I give Mos this, this cat knows how to ride a beat. His style of MC is perfectly sutied for this track and he sounds great over this track. Remember, you can never go wrong with the "Summer Madness" sample and if you proof, look at the Fresh Prince's DYE-rection.
12. ROCK BOOTS
....
Nah just kidding, but this is just another inerlude that sounds like you play this during the summer om a beach. It is short, but sweet.
13. IN MEH DREAMS (feat. Muntcho Leo)
???!!! This is my reaction to everytime I hear this track. Mr. Man handles this reggae flavored track with a decent effort, but I can't say much on this track until I learn how to speak the way these cats speak on this track or if I can could just understand what the Hell is being said on this track (It was all a Dream- BIggie).
14. MELTING PLASTIC
COOOLLL (SAID IN CHEETOS CHEETAH VOICE)!!!! This track is more like it. This is one of my personal favorites on this album. Mr. Man, again, handles the production duties and he does not disappoint with this effort. Everyone does a fantastic job on this track. Lee Majors discusses the illusions people project just to keep an certain reptation of themselves up to standard (sounds familair, huh?). Y-Tee has a *ALERT* MCing appearance and steps to the plate about the tracks theme. Mr. Man comes into to continue discussing these illusions people try so desparatly to maintain. The track's message is to be who you be and don't come fakin the funk or fakin moves on who you be, so understand the track's title and you clearly see what is going on here (For Further Hint, Chorous says: "No Money, No Love" (I love the way Y-tee handles the chorous, one of the better chorous on the album (funny it is only two words). The outro for this track is tiiiight, with a great message, and this lead us into the...
15. OUTRO
PEACE OUT!!! This is just great. These three cats just come real with it and tell you their feelings on thier stance in the rap game and what the album;s title means to them. Shawn J. Period provides the backdrop (look at the intro if you had any ideas to who came with this beat).This concludes the theme of the album presented in the Intro and just know that the Bush Babees are forever, knowing it is a long time, THEY MEAN FOREVER!!!!!
Final Thoughts: Gravity is great listen to this day. It is sad that this is the last we would here from these cats (collectively, I means)who were kinda of associated with the Native Tongues(emphasis on KINDA). Lee Majors would show up here and there with appearnaces on track with Scritti Politti and then some. Y-Tee would go on to circulate in the Reggae scene and still is active in their to this day. Mr. Man would be the most relevant of the three with producing tracks for other artist and plus, he had a appearnce on that FORTIFIED LIVE Joint (it is John Blazing to this day, You want look at this site's hsitory if you wants it). There was some news a couple years ago that these cats would reform or something like that, but nothing ever became of that. I heard Lee Majors moved on from the rap game, so who knows what's up these cats now. At Least they could make a great album to end there careers (going out like Strahan in '08).
So without further ado, The Bush Babees
Gravity Album
:
Mediafire Link
(Note: The 9th and Last Track is a mix up with the Last Track Being "The Ninth Presentation" and the 9th track being "The Ruler". Sorry for this mishap)
&
A Little Something to Go along with That:
Bush Babees - Non-Album Cuts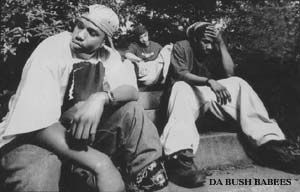 Mediafire Link
(Courtesy of Ohword.com)