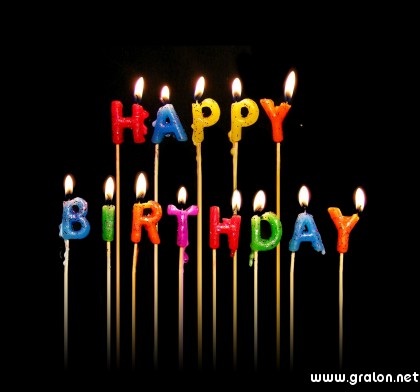 YOU KNOW WHAT THIS IS, IT's A CELEBRATION KNITCHES!!!!!
I cannot believe that I am one year deep into this thing. I would like to thank all those for the continued support and trust me, the best is yet to come (VOTE). THe funny thing about this post is that I comes three days after the first post for this place. Thnik about It? Cool, I actually missed the actual annie-drops-tight-verse day, but it is all good because the weather is still bad (or mad, or sad, or you occasional dad (OOHHH)).
Anywho, all jokes offsides (foul or flag anyone), I am grateful that I got here with a few scars to show for. I would Likes to big ups all the blogs listed on the blogroll for this site and I hope to be in the elite company that withold in their own arena. The past year has been as turblent a year in recent memory with fantastic highs (VOTE, that's all I gots to say on that matter (Look at Hip Hop Is Read for Q's political position, if you must insist) and disparaing lows (Bernie and Black Moses, we always love you forever). I have grown somewhat in mentality for the world and wisdom on what life holds for one.
When I started this blog, I did not really know what the "HEY!" to go with this thing. I guess I had some plan at the start, but I wanted to stick out from the millions(AND MILLIONS (said in the Rock's voice) of blogs in the sphere, but accomplishing that goal was a tall order that few have reached. As I have journeyed in blogging from time to time (Sings: my schedule used to look so good, but real life is so heavy, I don't know, I rather make ceratin days to blog, because then I will be ready, so let's go), I have come to realize that this is for those who are true to it. I mean I could talk all day on just one post from such bloggers as Kev Nottingham, Dart Adams, Max of Hip Hop Isn't Dead, Travis Of WYDU, Smoking Section (Respect Their Fresh) and so many others. These cats, and a couple others, are what you should strive for to earn the coverted "Blogger's Respect", so many people want, but can't obtain.
So where does John Q, and Guy Fawkes (added a team member in year, not bad huh), go from here. Well after the celebration (like I won a championship), I will probably come back to *Gasp* posting on a regular schedule and hitting up the masses with the goods because I heard the bads are not so delightful. So stay tuned for what comes in the future and hopefully, next week, the first suprise in the year two for this place will come in the form a change the whole world can appreciate (VOOOOTTTEEEEE)!!!!
Somedays, I look to Heavens, beause the Human Realm cannot provide the answers I seek
and what I Find Does not shock or suprise me, but fills with a completness unparalled
The only question that remains from this is: Will you find the one true thing your heart desires?


*Condolences and Prayers to Jennifer Hudson. May God with you thorugh your time of grief.*
So, peace to the nation, the people that represent, and those
cats that never bug out to the extreme
Yo, If word is bond
then Q is gone
*When They Reminisce, Over You, My God*